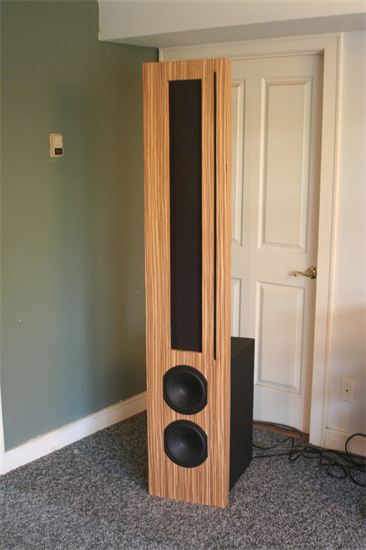 High-end audio shows like the New York Audio and AV Show earlier this month tend to favor ultra-expensive esoteric gear that most of us can only dream of owning. But I'm always more interested in the affordable audio systems that regular folks might actually consider buying.
One such practical highlight at the 2012 NY show was the room featuring the GTA2 planar magnetic speaker systems by GT Audio Works.
Greg Takesh (GT) was on hand to demo his budget-conscious ($2,795/pair show special, regular $2,995/pair) planar dynamic hybrid speaker system. He designs his loudspeakers, and produces them himself, garage-style in Stockholm, New Jersey. The GT Audio Works speakers are only available for direct sale from the maker.
The GTA2's created quite a buzz among those attending the NY show who made their way to the 15th floor demo room and heard them…
"Quite good sound… an incredible bargain."

"They are one of the few speakers that were playing loud without compelling me to want to leave the room… voices in particular are astounding…chorus singing will drop your jaw."
The GTA2 incorporates a ribbon tweeter, planar magnetic full-range driver, two 8-inch mid-bass drivers, and a more conventional powered 8-inch sub-woofer. The pair on demo in New York were finished in zebrawood, which looks great, and other finishes are available to order.
These speakers are intended for a 2-channel audiophile setup, but they are also suitable as home theater main speakers. The planar magnetic design produces an open transparent sound that is comparable to what you get from much more expensive electrostatic speaker systems.
According to Takesh: "Planars project sound twice as efficiently as listening distance increases (as opposed to closed box speakers) giving the feeling the performers are right in the next room. This is great for casual listening as you go about your duties in your home. It never sounds loud… they just fill your home with music."
How refreshing to find an enthusiast-designer-builder who not only believes that "high end audio is WAAAAAAAYYYY too expensive"… but is doing something about it!
"Speakers are like opinions…everyone has their own view on what's right… I invite you to come to my home with your favorite CDs or stereo equipment and take your time to hear for yourself."
– Greg Takesh