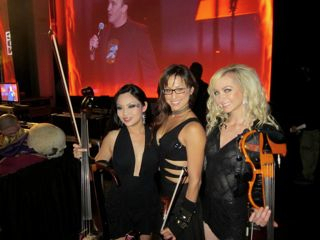 I don't often get a chance to talk about my secret passion for World of Warcraft (a massively popular online game) here at AudioWorld. So I was quite pleased to find this opportunity! Electric violinist Christine Wu has posted a great story about the technical challenges she faced with sound reinforcement when she performed as bandleader at last October's Blizzcon 2010 event.
Blizzcon is a huge annual event put on by Blizzard Entertainment, the game developer responsible for World of Warcraft, in Anaheim, California. It's the place to be for WoW gamers, and it always includes splashy concert events in the evening, at Anaheim Convention Center. For Blizzcon 2010, one of the main stage events featured a costumed, WoW-themed dance contest, with music provided by a very hot band of L.A. session players, fronted by three electric string players. All led by Christine Wu.
The show came off without a hitch, at least as far as I could tell at the time. I remember thinking what a great job the band did, sounding (and looking) great under difficult circumstances. As Christine puts it… "we have no idea if we'll play 10 seconds or 2 minutes of each song… but I'll have no feed from the show's producers or a talkback mic to talk to my band, which is going to present a MAJOR challenge."
That turned out to be almost the least of her problems. Her story of behind-the-scenes at the show details how she used an Apogee GiO guitar interface to hook up her custom 5-string Yamaha electric violin with her Mac laptop, Logic Audio, and Waves GTR and Pedalboard. This solved all kinds of trouble with software incompatibilities and audio connectivity, and she managed to run solid through a 3-hour show entirely on battery power.
It's a great story, especially for those of us who were at Blizzcon and enjoyed the whole spectacle without ever thinking what was going on with audio. In fact, I remember overhearing several comments about how great the sound was, better than ever before at a Blizzcon event.
Gratz to Christine Wu, her band, the sound reinforcement crew at Blizzcon… and Apogee Digital for the versatile GiO interface.