Canton has introduced the Movie CD-1, a 5.1-channel speaker system that delivers all the dynamics and excitement of home theater in small and attractive satellite speakers that reflect the company's historic commitment to both sound and design.
The package consists of four identical aluminum microspeakers, a matched horizontal center-channel, and a small but powerful subwoofer.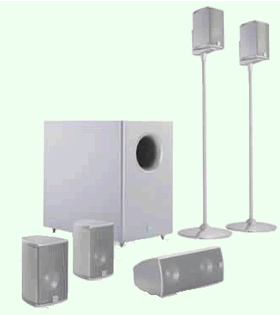 The Movie CD-1 home theater system is currently shipping, available at a suggested retail price of $1099 (US).
Canton says that unlike many subwoofer-satellite mini-systems, the Movie CD-1 models are far more than just smaller speakers. Canton engineering and design advances in driver, circuitry, and cabinet design give the CD-1 satellites a frequency response of 80 Hz to 25 kHz from a speaker that measures just over 5-inches tall, and under 4-inches deep and wide.
Among the advances that allow this feat are a new, proprietary 3-inch aluminum woofer, high-integrity aluminum housing, a 3.6 kHz crossover network, and a sophisticated passive filter circuit which blocks unwanted low-frequency signals that can generate harmonic distortions.
The CD-1 Center-channel incorporates the same technologies and drivers as the satellites, but features a two-woofer, single-tweeter horizontal arrangement that provides outstanding midrange performance, so important for the reproduction of dialogue in movies. The tapered housing allows for easy 'tilting' of the speaker, and the horizontal driver array improves linearity across the soundstage. The CD-1 center-channel features the same aluminum housing and perforated metal grille as the satellites.
The CD-1 Subwoofer uses Canton's exclusive SC technology to deliver excellent deep bass response and very low distortion. The active SC electronic filter is integrated into the 100-Watt onboard amplifier circuit, and computer-designed to adjust the response curve to compensate for the acoustic characteristics of the housing and driver. This both blocks unwanted infrasonic signals, which can cause distortion from excessive driver excursion, and improves the speaker's output response curve across the frequency range. The result is a frequency response that pushes all the way down to 38 Hz and provides tight and linear bass up to 140 Hz.
The sub's adjustable crossover frequency, level control, and switchable phase adjustment can all be used to tailor the installation of the subwoofer and satellites in nearly any room, and with any source material.
The Canton Movie CD-1 Satellites and Center-channel are finished in striking aluminum, and the CD-1 Subwoofer is finished in a matching silver Matte. The CD-1 includes mounting brackets for all the satellite speakers. The LS-90 speaker stands shown in the photo are optional.