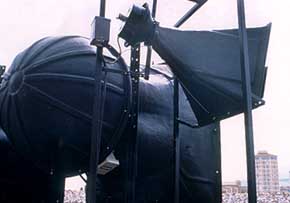 Denver, CO. A recent installation at the 53,000 seat Folsom Stadium at the University of Colorado is designed around four Leviathan II horn-loaded speaker systems by Community Professional Loudspeakers.
The reinforcement system upgrade was supervised by U of C Senior Audio Engineer John Templeton. His challenge was to create a new audio system for the Stadium that would be large and powerful enough to face any demand now and well into the future.
"The old system was basically designed for voice reinforcement only," Templeton says. "While it was good for its time, it had its limitations in context of our current needs. Coverage was a bit uneven, and we couldn't get very loud with it."
Templeton designed a full-range, concert level system to deal with the heavy use of sound effects and music. He chose the Community Leviathans for their ability to deliver high sound levels with full-range response, intelligibility, and tight pattern control.
The Levi II's are massive tri-axial systems. At the low end, they feature a radial array of six 15-inch Ferro-fluid cooled low frequency drivers, coupled to a 6 ft. x 6 ft. x 7 ft. deep 34 Hz flare rate fiberglass horn. This section has power handling rated at 1200 watts RMS, and produces a maximum continuous level in excess of 136 dB.
Inside each Leviathan's low-frequency horn sits a Community 200 watt M4 midrange compression driver. The M4 is coupled to a PC1542M 40 x 20 Pattern Control horn, and it covers the spectrum from 250 Hz up to 1800 Hz. The high end is covered by a pair of Community 160 watt EM282 compression drivers with carbon-fiber diaphragms, mated to a dual-driver 40 x 20 horn.
Templeton added two pairs of Community M4 CoAx systems for additional coverage to the sides, and directly below the mounting positions of the Leviathan II's at the opposing ends of the scoreboard at the Stadium's north end. These units consist of large-format PC1564M horns coupled with an M4 driver for the low/mid bands, plus a high frequency section coaxially mounted within the low/mid horn.
According to Templeton, the new system has no problem delivering the goods evenly and intelligibly to every seat in the house. "Directivity and pattern control is unbelievable too," he adds. "The Stadium is located right smack in the center of the campus, and not far from residential areas. The horns are so focused that we don't have a problem. If the situation warrants, we can really cut loose with our firepower, and still keep everything within the Stadium's walls where it belongs."