Software instrument developer Native Instruments has announced a new version of its Traktor DJ Studio software, and plans to penetrate the professional DJ market through closer collaboration with Stanton Magnetics.
The version 2.6 update fuses two of the most advanced digital DJ platforms into one complete solution: Traktor DJ Studio is now fully compatible with the latest version of Stanton's vinyl-controlled DJ system, FinalScratch 2.
The update to version 2.6 will be available in November 2004 as a free update for all registered users of TRAKTOR DJ STUDIO 2.5.
Stanton will bundle the FinalScratch 2 System, consisting of Traktor DJ Studio, the FinalScratch 2 controller, and a new Firewire sound card called ScratchAmp 2. Stanton will also ensure that the software is positioned right at the heart of the DJ market by taking over worldwide distribution of Traktor DJ Studio.
"Traktor DJ Studio's integration with FinalScratch 2 makes for a complete Digital DJing package that is hard to beat," says Daniel Haver, CEO of Native Instruments.
"Since both products have grown so close now, we are very happy to have Stanton leverage their longstanding experience in the DJ market to distribute Traktor DJ Studio and FinalScratch alongside each other in the future."
Traktor DJ Studio 2.6 offers several new features: live broadcasting via Internet, live audio input with on-the-fly audio recording, a revised filter section, added support for WMA and AAC audio files, along with several other enhancements.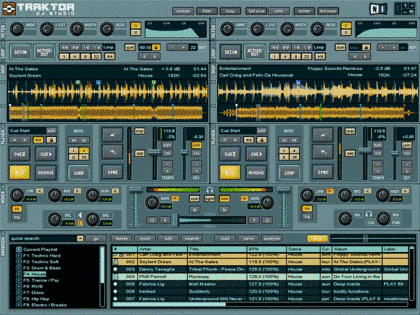 New features in Traktor DJ Studio 2.6 include:
* Compatible with FinalScratch 2 – Traktor DJ Studio now works together with Stanton's FinalScratch 2 hardware, which makes the software fully controllable via turntables and DJ CD players
* Internet Broadcasting – your performance can be streamed live over the Internet, thanks to integrated support for the Icecast streaming server protocol
* Live Input / Live recording – an external audio signal can be integrated live into the mix via a third dedicated mixer channel, which allows for announcements, voice-overs, MCing and much more: the input signal can even be recorded on-the-fly, and the recordings can be dragged directly into the mix
* Mix Recording – the mix can now be directly recorded into an audio file on hard disc during the performance, as an alternative to the existing non-destructive mix recording method
* Enhanced Filter Section – Traktor DJ Studio now offers a revised filter section which is sonically optimized for the treatment of full audio tracks
* Support for AAC and WMA – Traktor DJ Studio now also plays tracks in AAC format (Apple iTunes, non-DRM files only) as well as in WMA format (Windows Media Player)
* Browser Favourites – the file browser now offers a special "favourites" section where up to 12 selected folders or playlists can be stored, which can then instantly be accessed via keyboard shortcuts
* Playlist History – a new history function gives a detailed overview about all recently played tracks, and the list can also be printed out or exported – especially useful for professional DJs who have to take care of license payments to copyright associations
Traktor DJ Studio is the most powerful and versatile software solution for professional DJ mixing, live remixing and mix recording using tracks in MP3, WAV, AIFF, and audio CD format. It exceeds the possibilities of traditional DJ equipment by implementing a vast range of mixing features that only software can provide. This includes graphic waveform displays, tempo recognition and automatic synchronization, real-time time stretching, up to 10 cue points and 10 tempo-precise loops per track, and a track database with ultra fast search function.
Key features of Traktor DJ Studio carried over from previous versions include:
Displays
The tracks are graphically shown as waveform displaying the sound in two frequency bands for visual control of beats, breaks and instrumentation. An additional display now shows the entire track for fast navigation.
Tempo Detection
TRAKTOR DJ Studio's tempo detection uses complex algorithms for reliable beat alignment of two tracks on the fly. Tempo reading for complex beats can be improved by additional user tapping.
Tempo Correction
Pitch tracks +/- 100% or change their tempo in real-time using true-to-sound time stretching.
Precise Cue-Points and Loops
Up to ten available cue-points and loops per track open new dimensions for accurate cueing and live remixing. Cue points can be beat-quantized, loops can be set accurately on the bar, resized, moved, all without losing the groove.
Filters and Equalizers
High-end filters and equalizers radically transform the sound of the tracks.
Track Database
The easy-to-use track database provides a comfortable tree navigator, powerful quick search, MP3 browser, MP3 browser, automatic playlist icons keeping track of the set and direct pre-listening of tracks.
Automation and Mix Export
Full automation of functions and actions, recording of all user actions, seamlessly resuming mixing sessions, editing, overdubbing and exporting the entire mix as WAV or AIFF files.
Total Control
All of TRAKTOR's over 400 functions and actions can be operated by mouse, user programmed keyboard shortcuts, MIDI controllers or MIDI note events. Comprehensive learning functions provide straightforward allocation of external equipment. In addition TRAKTOR DJ Studio 2.5 can be synced with other music programs via OSC or MIDI clock.
Native Instruments Web Site
Stanton Magnetics Web Site